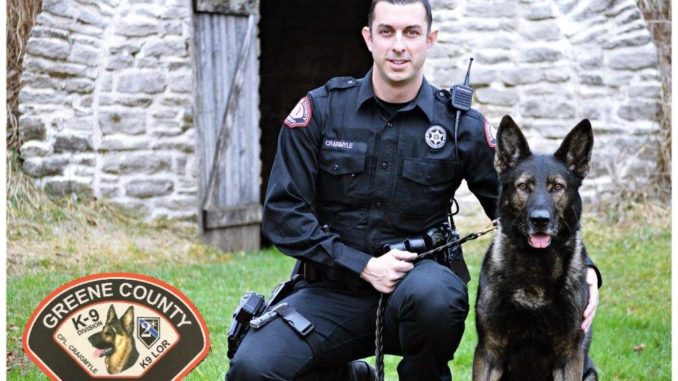 What is it like having a canine as your partner in the line of duty? Read on as we chat with Corporal James Craigmyle (and Lor) of the Greene County Sherriff's Office K9 Unit in Missouri. His name may be familiar to you. Cpl. Craigmyle and Lor are one of the K9 teams that appear on the hit A&E® Network TV show Live PD™.
 About K9 Officers
A 'K9 officer' or 'K9 handler' (as they are sometimes referred to), is a Police Officer (or other First Responder) who utilizes a four-legged furry partner to enhance their job responsibilities. The canines are trained to assist the handler. Their job can vary from sniffing out drugs to finding corpses or take down suspects trying to run from the police.
The Pickles Project caught up with Cpl. James Craigmyle to ask him a bit about his duties and his partnership with Lor and Live PD™. If ever I felt the 'my kid is cooler than your kid' scenario, it was during this interview! Lor is as cool as they come!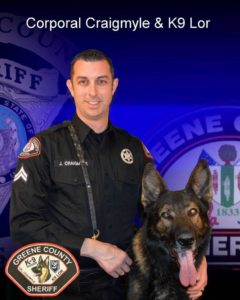 Pickles Project– Have you always wanted to be a Police Officer, and do you come from a family of First Responders?
Cpl. Craigmyle- Since I was in 6th Grade I knew I wanted to be a K9 Handler with law enforcement. I do not come from a family of first responders. Some of the family is in the entertainment business and some are in various other trades.
Well, we all can see where the entertainment fits in, can't we? Maybe Cpl. Craigmyle (or Lor) will be the first in Law enforcement to receive an Emmy!
Pickles Project-How long have you been a P.O. and did you begin in the K9 unit? If you did not, how did it come about?
Cpl. Craigmyle- I started in law enforcement with Greene County in 2004, I moved to the K9 unit in 2011.
Pickles Project-We are all glad Cpl. Craigmyle made the switch to the K9 Unit!
Pickles Project-Do you get paired with a specific dog? Or do you work with a couple of dogs to see which one would be best with you?
Cpl. Craigmyle- The handler is selected and then I go down and select the dog to the handler. We take into consideration the handlers' strengths and weaknesses and family.
Pickles Project-On a side note, I wish this process could be done for all potential 'Pet Parents'. Although nothing is foolproof, a better screening process and tighter regulations would certainly positively impact our pet population.
Pickles Project-How long is the training process with you and Lor together? What does it entail?
Cpl. Craigmyle- Basic K9 camp lasts a minimum of 10 weeks. It involves case law, narcotics detection, patrol work, tracking, evidence, building searches, tactical wind scents, obedience, gunfire sureness.
Pickles Project-Did Lor get sworn in?
Cpl. Craigmyle-No
Pickles Project-Wait, what? No paw on a copy of 'A Dog's Purpose', graduation caps? Even more upsetting is the fact there are no celebratory (healthy) treats from Sassy's Goodies? This seems unfair and must be changed. I for one will be lobbying for K9 swearing-in ceremonies (treats included).
Pickles Project-Lor is trained as a dual-purpose canine, trained in patrol and narcotics. Can you elaborate a bit?
Cpl. Craigmyle-Lor is trained to find 5 illegal odor (marijuana, methamphetamine, heroin, cocaine, and ecstasy) He is also trained in tracking/trailing, tactical wind scents, suspect apprehension/detention, building searches.
Pickles Project-Our guess is Lor does not fall for the, "It's not mine, or these are not my pants" Lines we hear all too often on Live PD™!
Pickles Project– Lor surely needs a reward after a job well done. What do you reward him with?
Cpl. Craigmyle –Usually a Kong® or a rubber hose.
Pickles Project-This is a 2-part question, many readers wanted to know the answer to! Does Lor come home with you? What is the relationship like at home, to keep his skills sharp?
Cpl. Craigmyle – Lor does live with me, when he is at home he is just like any other dog.
Pickles Project-Cpl. Craigmyle treats Lor like any other dog but, we are not sure Lor is like any other dog. At the Pickles Project, we believe Lor is Clark Kent at home, and he morphs into Superdog when he is on duty.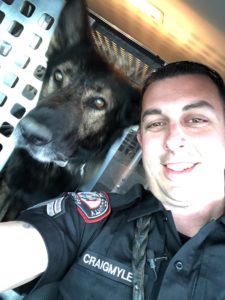 Pickles Project-Does being on Live PD™ present any issues for you?
Cpl. Craigmyle – So far, I have not had any issues with being on Live PD™ on A&E®.
Pickles Project-Do you think Live PD™ gives a better perspective to viewers regarding how difficult a P.O.'s job is?
Cpl. Craigmyle – Live PD has done a great job with the agencies on bettering the perspective people have about law enforcement. The nation can see what we go through and deal with on a daily basis.
Pickles Project-All the single four-legged ladies want to know; Is Lor single?
Cpl. Craigmyle – Lor is single and looking for a healthy, good-looking, working line female shepherd.
Pickles Project-Well, what do you know? Lor is single and ready to mingle!
Thank you to Cpl. Craigmyle (and Lor) for giving us all a glimpse into your world!
We would like to thank those in Law Enforcement (including the Four-legged ones) who put their lives on the line, every day to keep their communities safe. We appreciate the brave men, women and K9's for the service and dedication they show each day.
May you return home safely to your families after every shift.
 We would love to hear from you
Are you a K9 handler or trainer? Would you like to be featured on the Pickles Project? Contact us: info@thePicklesProject.com
 Links
Greene County Sheriff's Office- https://www.greenecountymo.gov/sheriff/
Cpl. Craigmyle: Instagram/Twitter @Craigmyle_Lor
Live PD™ A&E®- https://www.aetv.com/shows/live-pd 
A Dog's Purpose (Book) – https://amzn.to/2LmdIL2 
Sassy's Goodies-  http://www.sassysgoodies.net/
Story By: Dina Parise -The Pickles Project
Photos Courtesy- Cpl. James Craigmyle, Greene County Sheriff's Office