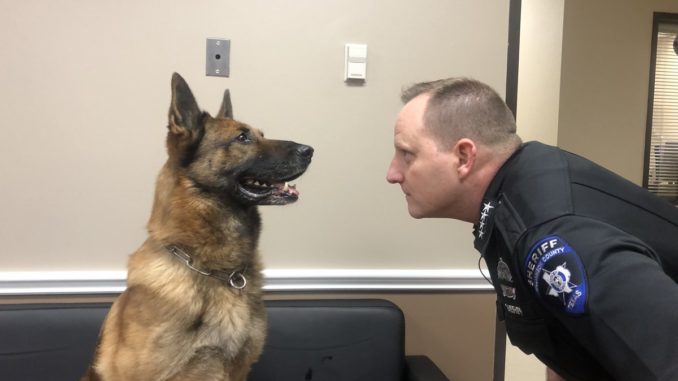 First, there was the TV show 'Cops'. Now we have the hit A&E® Network TV Show Live PD™! It's real-life drama captured on Live TV every Friday and Saturday night. Viewers have become 'fans' of various departments (including the K9 units) around the country. Here at the Pickles Project, we thought it would be fun to get to know the Departments, the officers and their K9's. This week's episode of K9 corner stars Williamson County Sheriff's Office. Thank you to Sheriff Robert Chody for taking the time to chat with us.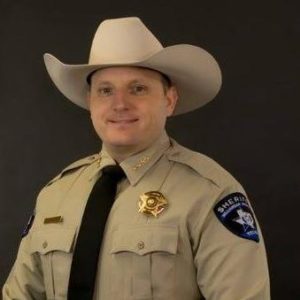 Truth be told, I had wanted to change this to 'story form'. Instead, I have left it in a 'question and answer form, for you, the reader to get a feel for Sheriff Chody's passion. You can feel his passion for being in Law Enforcement and why he chose this path.
Williamson County Texas is part of the Austin-Round Rock-San Marcos Metropolitan area. Although Williamson is Metro, it was outdated and before Sheriff Chody the Williamson County Sherriff's Office had made the decision to incorporate a K9 Unit. There was a specific, heartbreaking incident, that set the wheels in motion to launch the K9 program.
Years back, a dog had broken loose from the confines of its home.  What is more disturbing is that the dog was terrorizing the neighborhood. It had attacked various people and had charged an elderly couple. There was an officer called to the scene. Due to the fact that he felt lives were in danger, he had to make an awful decision to take the dog down. As a result of this incident, the K9 unit was created.
Here is our interview with Sheriff Robert Chody of the Williamson County Sheriff's Office (WilCo).
The Beginning
Pickles Project– We asked Sheriff Chody if he came from a long line of Law Enforcement in his family or if he had always wanted to be a Police Officer and why. His answer may surprise you:
Sheffif Chody- The desire to become a police officer came at an early age. It began when I was (about) 12 years old.  This was due (in large part) to a traumatic event in my life. I witnessed my mother being abused by her boyfriend.  This had become a common occurrence in our lives. One night, in particular, the abuse escalated further, and he began to harm my twin brother.  Eventually, I was able to call the police at a neighbor's house.  The responding deputy's approach changed my life.  I had a sense of security like never before. I wanted to pass along that same feeling of security to others.  A sense of paying it forward.  The desire to be in law enforcement would not leave, nor has it left yet.
Going to the Canines
Now that we know how Sheriff Chody got his start, let's get a better understanding of how K9's and their handlers become a cohesive partnership.
 Pickles Project- How does the pairing of Canine to Officer work? Does the Officer you get paired with a specific Canine or work with a couple of dogs to see which one would be the best fit?
Sheriff Chody-All agencies have their own specific ways of pairing. Here at WilCo, we first want to make certain that the deputy is a good Officer first.  Then when a position in K9 is vacant, we post the position for interested deputies to put in for.  Deputies are then boarded and present themselves to the board for an oral interview.  They are then ranked from a series of questions and the scores are tallied.  The board will rank them in order of preference. Finally, the results (numbers) are presented to me.
As the Sheriff, I have the final say, but typically we rely on the recommendation of the board. To conclude the process, the deputy that is chosen proceeds to meet a K9 that has already been picked by the K9-trainer.  Altogether, the new K9 deputy will then have roughly a month or so of training and bonding with their new K9 partner.  This is a facility where the new k9 trainer and new K9 train together during the day and literally are boarded together for the night as a form of bonding.  The k9 will sleep in the same bed, eat, and play in this room.  The pair is literally spending all the time together for the month.
Pickles Project- Do you have any training tips for our readers?
Sheriff Chody– Yes, it is very easy to get attached to these k9's and it is easy to forget that they are working k9's and not the dog you would have at home.  We believe you can have the best of both worlds to some degree.  Constant training is a must.  We train once a week every week! Just like us, you must be consistent with your dog.
Pickles Project- Do your K9's get sworn in? (You all need to hold him to his answer!)
Sheriff Chody- No! But I love that idea, so I likely will steal that idea from you.
Give Me Shelter
Pickles Project- Many of us often wonder where the K9 Officers get their start! Were they from a fancy breeder? Were they saved from a local shelter or both?
Sheriff Chody- We do look into Canines available for purchase. We typically like to stay with the breed of Belgian Malinois. They are known for their ball drive. That is a good detector for us when it comes to training.  Recently we did foster from the local shelter (a different breed) because we noticed his ball drive is so high.  If the ball drive is high, the k9 will work out well in most cases is our experience.
Pickles Project- Tell us a bit about your efforts in association with 'Clear the Shelter' day.
Sheriff Chody- To begin with, our efforts were not merely for the day although we do participate! We choose to simply advertise to assist in adopting a shelter a dog every week for adoption. Utilizing our K9's and their fans on Social Media, gave us the audience boost we needed to assist in getting the word out about 'clear the Shelter Day'!
Note* On a whole, the National 'clear the Shelter Day' saw 88,000 pets adopted across the U.S. in 2018.
On Duty
Pickles Project- Are certain canines trained for specific duties (bomb sniffing, search and rescue etc)? Can you elaborate a bit?
Sheriff Chody– Most of our dogs are dual certified meaning they are trained in patrol (apprehension & article searches) and narcotics. There are some exceptions. such as one K9 that is only trained for an explosive ordinance,  and another that is explosive and patrol.  We have two that only search for narcotics.  Depends on our desire and needs on what we get.
Pickles Project – What do you reward the Canines with after a job well done?
Sheriff Chody- Simply, a rubber KONG®.  That's it.
A Matter of Safety
 Pickles Project- We talked about the fact that (after a Twitter post), 'Vested Interest In K9's' out of Massachusetts reached out to WilCo to provide a very important, life-saving piece of safety equipment for your K9 Officers. What was it?
Sheriff Chody- Vested Interest In K9's has provided Bullet Proof vests for our K9 Officers. The vests are extremely heavy and hot for our K9's. We don't put the vests on unless there is known or probable danger. Searching for an armed suspect, we would put the vest on the K9.  A search of narcotics on a car, in most cases the K9 would not wear a vest. The handler decides what's best for their k9.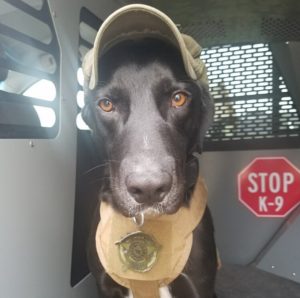 Maxed Out
Pickles Project- What was the best apprehension an Officer and K9 partner have made together?
Sheriff Chody-  K9 Max had been utilized in searching for an elderly male who went missing this past summer. The elderly male was missing for most of the day in the blazing Texas heat.  After hours of searching and darkness looming, k9 Max located the elderly male who was in dire need of water.  Had K9 Max not located this man, he would not be with us today.
Closing the Gap
Pickles Project- We all know animals have a 'healing' quality. You have found the K9 unit has created an opportunity to 'close the gap' with the community. Can you elaborate a bit?
Sheriff Chody- Yes, (especially) by including the K9's on our Social Media, we have attracted animal lovers. This has given us an opportunity to share funny photos that include our handlers who are Police Officers.  People are seeing the deputies as humans who love their animals, not just as Law Enforcement.  We also use humor with setup videos related to Law Enforcement like arresting K9 Nemo, then interrogating him for bringing Kongs® in the Sheriff's office. We call it 'Paw and Order'. Also, it's just plain FUN! Its paid dividends for us on a whole. We now have baseball cards featuring our K9 dogs!
The Bachelor
 Pickles Project- Nemo is your most popular Canine. Is he single? (Many will Swipe right I'm sure!
Sheriff Chody- Technically, he is but he and Winnie (not a police dog but lives at home with him and his handler)
Thank you to Sheriff Chody for giving us all a glimpse into your world!
We would like to thank those in Law Enforcement (including the Four-legged ones) who put their lives on the line, every day to keep their communities safe. We appreciate the brave men, women and K9's for the service and dedication they show each day.
May you return home safely to your families after every shift.
We would love to hear from you:
Are you a K9 handler or trainer that would like to be featured on the Pickles Project? Contact us: info@thePicklesProject.com
Be sure to check out our other K9 Corner Stories here: https://thepicklesproject.com/category/k9-corner/ 
Links:
Williamson County Sheriff's Office- http://www.wilco.org/sheriffs
Williamson County Sheriff Chody- FaceBook/Twitter/Instagram- @SheriffChody
Paw and Order- https://youtu.be/pUV_x0NCcyY
Live PD™ A&E®- https://www.aetv.com/shows/live-pd
Vested Interest In K9's- https://www.vik9s.org/
Story By: Dina Parise -The Pickles Project
Photos Courtesy- Williamson County Sheriff's Office