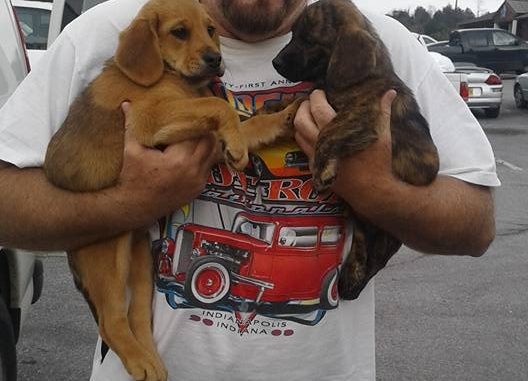 Throughout my Drag Racing career, I have met many interesting people. On a whole, I will say they are animal lovers. When I think of an animal lover that turned his love into dedication, I think of Chris Haverly. Here's his amazing story.
Just an Average Guy
By Haverly's own admission, he is just an average guy that woke up one morning and realized he was 61 years old! He grew up in the Coal Camps of Eastern Kentucky and Southwest Virginia. He is a drag Racer with deep roots in the sport. "I went to my first race at 12 years old." Said Haverly. He aspired to be in the professional ranks of the sport but preferred his 'normal' life over the craziness and travel. He always had dogs growing up. Haverly recalls working at the (coal) mines, relating that to the beginning of his love for rescuing animals. "There were always strays on the job site." He said. "I made sure they were fed and had a place to sleep."
The Beginning 
Haverly's animal rescue began at a job site in Eastern Kentucky that he had worked for many years. It became known that Haverly would take care of the strays, so the site became a dumping ground for unwanted animals. "I usually had 6 to 12 dogs there at all times." Said, Haverly. At the time, he had the spare funds to ensure the animals had their shots as well as having them spay or neutered. He currently has two dogs that were born at the job site. Both dogs are 17 years old and have never spent a night apart. Haverly estimates over 50 dogs had been dumped at the mine site. He took it upon himself to find homes for all of them (including the two 17-year-old dogs he still has).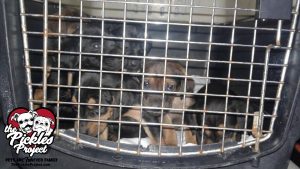 The spring of 2016, is when Haverly's dedication went into high gear. It began when he was driving from Virginia to Kentucky. He saw two pups on the side of the road and stopped to feed them. He makes it a habit to carry food in his vehicle due to a large number of strays in this area. Seemingly the direct result from the sad state of the economy (in the area). Of course, we need to account for those that just do not care properly for their animals. After four trips back to the site to gather the pups, success! Since he already had 5 dogs at home, he began checking with fellow animal lovers to find a home for them. That is when he connected with Tammy Vanover Dotson, who works with rescue groups on the East Coast. Her goal is to get dogs and cats out of local kill shelters. And so it begins……….
Unfortunately, Haverly has been out of work for some time. Since (as he says) all he has is time, he decided to assist Dotson in her quest. The need to move animals to rescues was imperative. Dotson is dealing with a shelter that in 2014 killed over 2000 dogs and cats. By 2016 they were down to less than 20.
Travelin' Man
Haverly's main objective is to transport. Until recently, he was using Dotson's personal Dodge minivan with over 200,000 miles on it. He has since been loaned a van from one of the rescues in Eastern Virginia. It is a full-size Chevy cargo van. Transport takes place twice a week. Haverly runs from Wise County Virginia Va. Animal Shelter, to Staunton Virginia. There, he meets rescue groups who take the dogs and cats to find them their forever homes. The objective of this transport is to keep the shelter from being at max capacity, therefore avoiding having animals euthanized. By placing animals in rescues, it frees up space and gives the animals a fighting chance.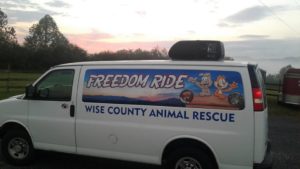 Personal Touch
Haverly chooses to keep puppies in his home until they are delivered to their respective rescues. His reasoning is simple. He knows a shelter is not an ideal an environment for a young puppy (or kitten). The sound of other dogs barking constantly along with; the smell, the noise and the lack of human contact is not a good start for a young dog or cat. "We have a chain of rescues that have to pick up points all along the interstate." Said Haverly. "This path crosses from Virginia to Tennessee to the state of Maryland." At times, he will have multiple drop off points. The drop-offs are to the rescues that in turn find the animals their forever homes.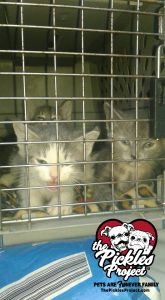 The 'job' of the rescue is not a simple one. They will have the animals vetted. They will have them spayed and neutered (if not done previously) and do complete background checks before anyone can adopt. That will include behavioral checks as well.
Haverly usually averages 20 to 30 dogs and cats per trip (but it has been as high as 50). Dotson ensures the paperwork is ready upon his arrival and marks the crates for each pet.
Haverly is often asked, "What type of animals do you rescue?". His answer is simple. We get every kind of dog and cat you can imagine and rescue them all. From purebred dogs to mixed mutts, as well as purebred cats to a mixed variety. Some are youngsters still nursing and they range all the way to senior animals just wanting to live out their time peacefully and being loved.
As stated earlier, Haverly has 7 (rescue) dogs he keeps full time, and he fosters others when needed. Wise County Animal Rescue provides food for Haverly when he fosters dogs. His travel, on the other hand, is on his own time and dime.
Aside from rescuing animals, Haverly and Wise County Animal Rescue are tackling another important cause. They are assisting people in the community by providing pet food. In doing this, it keeps those who cannot afford it, from surrendering their animals. With the help of donations, they are providing free dog and cat food to seniors and others in the area HOPING this will allow them to keep their pet. "No one should have to choose between paying their electric bill or feeding their pet." Said Haverly. They have distributed anywhere from 300 to 500 pounds of dry food per week. Haverly personally delivers the bulk of it.
Pet Rescue Tips
In the case you do have to surrender an animal, here are some tips from him:
* First check to see if there are any rescue groups in your area who can help. Pet supply stores such as PetSmart, Petsense, Petco, and others have contacts with local rescue groups and can assist.
* Many Pet supply stores also have pet adoption events maybe once a month to help relocate animals.
*Check online for rescue groups. Especially if it is a specific breed. Search by that breed.
*Check your local animal shelter. (be warned it is an eye-opener). Understand, and know the difference between a 'Kill' and 'No-Kill' shelter. If you are surrendering your animal to a 'Kill' shelter, you must realize, that pet is on a time clock. Many are euthanized after the hold period.
*DO NOT put ANY animals for surrender on a Yard Sale Site. You do not know the intentions of the person purchasing. For example; "We know of one girl who was getting small pets from Yard Sales, to feed her snake." Said Haverly.
If you are interested in getting a pet, go to your local shelter and adopt. You are certain to get an animal that realizes you saved its life. Be sure to spay and neuter your pets as well.
If you would like more information, you can find Haverly on Facebook (https://www.facebook.com/chris.haverly.3 ) or via Email ( chrishaverly@yahoo.com ).
The Wise County VA Animal shelter can be found on Facebook ( https://www.facebook.com/Wise-Co-VA-Animal-Shelter-1408975849325966/ ).
If you wish to make donations to assist with vet bills, food, and various supplies there is a Pay Pal account. Pay Pal tjvdotson@gmail.com
Story by: Dina Parise- The Pickles Project