Welcome to The Pickles Project! I'm Dina Parise. The Pickles Project is named in honor of our sweet Pickles Petunia Parise, AKA The Triple P! Her sudden death at 7 months old, prompted me to create a place where pet owners (and lovers) can go to chat and learn more about pet health, nutrition, safety, bereavement, and EVERYTHING pet related!
Join us both here on https://thepicklesproject.com/ and our Social Media sites as well! Let's get chatting about our pet's, their health and much more! We look forward to getting to know you AND your pets!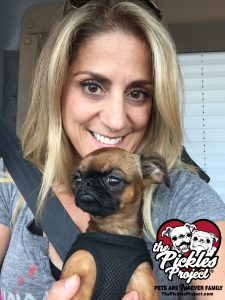 I am not a Veterinarian, but I may play one in my head….Occasionally. That being said:
Disclaimer: The information on this site is not to be a substitute for professional Veterinary advice, diagnosis or treatment, nor is it intended or implied. The purpose of this website is to promote a broad understanding and knowledge of various pet health topics. The information, including but not limited to, text, graphics, images and other material contained on this website are for informational purposes only.
Always seek the advice of your Veterinarian with any questions you may have regarding a medical condition, treatment or emergency your pet may encounter. Never disregard professional Veterinary medical advice or delay in seeking it because of something you have read on this website.
Reliance on any information appearing on this website is entirely at your own risk.