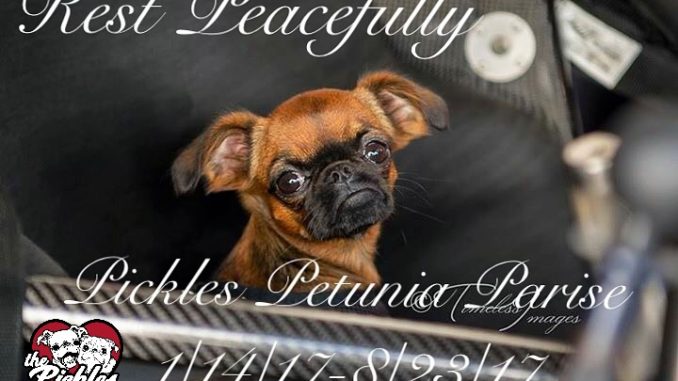 They say everything happens for a reason. Those reasons are not always apparent, nor do they immediately come into focus. It takes time for the smoke to clear and for us to understand why certain things happen. Is there such a thing as 'the greater good'?
Her Story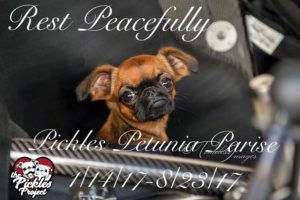 August 23rd is the day the most amazing little nugget was taken from our lives. It was the day Pickles Petunia Parise (the Triple P) left this world. To understand more about her story, visit: Creating Positivity from a Painful Pet Loss.
Let me be clear. She was with us for 4 months. Yes, 4 months. It may as well have been 14 years. It was the most incredible 4 months anyone could ask for. She came to us as a quirky, nervous pup with a host of issues. With lots of love, patience, and training, she became a confident dog that loved to do tricks and entertain! She left this world full of confidence and loved beyond belief by many.
Small But Mighty
Pickles was a mere 6.5LBS at her heaviest. In the beginning, we struggled to crate train her, or train her at all!  Somehow, she busted her way out of everything! We aptly named her 'Hairy Houdini'.
She was a Brussels Griffon (Petit Brabancon). She had many of the traits of the breed that were tough to handle as well as the positive traits. She suffered from severe Separation Anxiety (and Anxiety in general), yet she was extremely charming and sweet.
Becoming a Superstar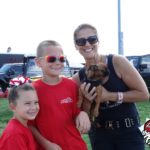 For those of you not familiar, in my 'other life' I am a professional Drag Racer. The beauty of that is, my fur babies get to come to work with me! During the time of attempting to wrangle little Pickles into crate training, I was chronicling it on Social Media. Being a 'car gal', I had found a way to keep her from unzipping her soft-sided crate, by using Zip Ties! Apparently, my fellow racer friends and the fans felt bad for her and began the #FreePickles campaign! It was hilarious and had spread like wildfire! She was a bit of a Superstar in her own right!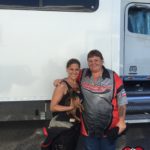 About a week before she passed she had done a photoshoot for an amazing organization here in the Atlanta area called Mister Migs. They create fashionable dog clothes and accessories with a focus on sustainable design as well as providing real-life work and community experience to marginalized youth. Be sure to check them out.
By the Numbers
Pickles entered this world on January 14th (2017) and departed on August 23rd (of the same year). Oddly, My Birthday is January 23rd and my Husband is on August 14th. As you can see, the dates are reversed. I took that as a sign and wondered what was to come.
Moving Forward
Fast forward to December 2017. I received a message about a Griff in need of a home. We live in Georgia. We had driven to Indy for the Performance Racing Industry Show. When it ended, we promptly drove to Louisiana, picked up Twizzler and drove back to Georgia.
Twizzler was 8 Months old when we got her. (Side note; Her Birthday is in April. A week and a half apart from Pickles 'Gotcha' Day). She too suffers from severe Anxiety and Separation Anxiety. Had we have never had Pickles, we may have never really understood how to deal with her issues. It has been a long process, but she is improving nicely. To add to that we have recently welcomed another addition to our family! Twizzler now has a sister! Her name is Pistachio. She is a Black Pug. Our home and hearts are full.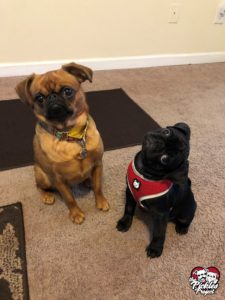 Coming into Focus
She was preparing us for the future. The smoke had cleared, it was all coming into focus. Twizzler was the 'reason, and The Pickles Project is the 'Greater Good'. Pickles entered our lives for that short amount of time, to prepare us for what was to come. Unfortunately, her life was not meant to be, long for this world. Selfishly, we wish it was. But, we now know why she was here, and why she came into our lives. It all makes perfect sense. She made quite an impact in her short little life.
I bet you are asking 'How can something so small, be so smart?'. Well, she's a dog. They are smart enough to not let anything cloud their judgment and their loyalty never waivers.
Thank you little one. You accomplished what you came here to do. Run and be free, and don't forget your favorite hat! You deserve it.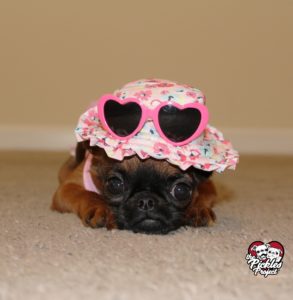 We love you….
Courtesy Timeless Images -Featured Image